Here of some links and examples of social media work that I've done for a variety of companies and short synopses of the work behind the posts.
This post exhibits my ability to use relevant content to drive engagement and connect with audiences. Society SOP is a clothing brand that uses political humor and pokes fun at the misplaced priorities of our culture. In this post, I used a picture of Kendrick Lamar, a highly popular and influential hip-hop artist, wearing Society. This picture caught our audience's eyes and made them much more likely to engage with the post. Both Society SOP and Kendrick aim to stand out from the norm and stand for something important, and they both use their platforms to inform people about important issues and bring attention to the ills of our world. This post was the perfect marriage of a brand and an artist who share the same ideals and our audience was quick to interact with the post either through shares or likes. Through this post, we were able to drive about $500 in sales and received heavy engagement. Although the engagement with this post has lessened over the past year because of Karmaloop's diminished stature, this is still one of my favorite works.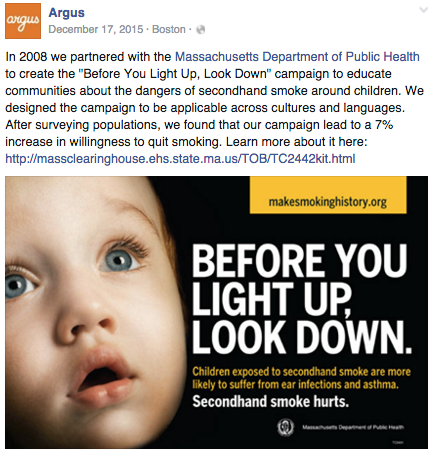 Argus Communications has a mantra, "Work That Matters" and they pride themselves on partnering with companies that are working towards making the world a better place. While I managed their social media, I tried to exemplify their motto through featuring our work and innovative work of other companies that were helping raise awareness of important issues and further various causes. In this post I wanted to show some of Argus's past work while also speaking to our mission of doing important work that benefits society. I also wanted to show how powerful our campaigns were and the tangible impact of our work. I used this specific ad campaign because it was incredibly simple but also extremely powerful.